AXIS Advanced Surveillance Solutions
Besides the conventional video cameras, Axis also specialise in hardware and software for specific applications such as cameras with advanced AI processing capabilities, accurate detection systems using radar and thermal technology and body worn surveillance solutions. If your needs exceed what a CCTV system usually offers, odds are that we've got you covered using specialised hardware and innovative software combinations.
The below are a few examples of these solutions:
AXIS Q1659 - Fixed box 20MP network camera with Canon APS-C sensor and EF lens mount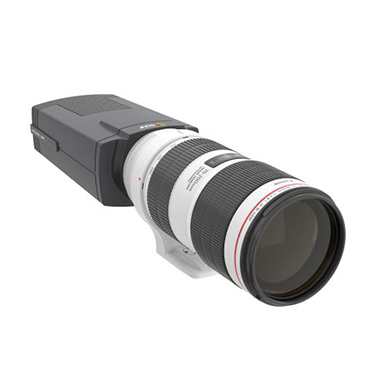 AXIS Q1659 offers ultra-high image resolution for surveillance in superb detail at 8 frames per second, achieving unprecedented levels of detail for observing open spaces and across long distances. It features digital single-lens reflex (DSLR) imaging technology and offers a choice of Canon EF/EF-S lenses, depending on individual user needs. Equipped with an EF lens mount, the camera enables easy lens changes. AXIS Q1659 is compatible with a large number of video management systems, and it supports Zipstream that significantly reduces bandwidth and storage requirements.
Superior images – packed with detail
AXIS Q1659 brings the ultra-high – 20 MP – resolution and the vivid colours, high contrast and extreme detail of a DSLR camera to a top-of-the-line Axis network camera. Featuring a Canon APS-C image sensor, it comes with a wide selection of Canon EF/EF-S lenses as well as Axis Lightfinder for high-quality colour images even in darkness.
Reliability. Long-distances. Low bandwidth.
AXIS Q1659 is equipped with an SFP slot, for an optional fibre-optic connection. This means you get network redundancy and the flexibility to connect over long distances. In addition,  Axis Zipstream lowers bandwidth and storage requirements by an average of 50% while preserving image quality.
Easy integration
AXIS Q1659 supports a wide range of video management software, so it's easy to integrate into just about any video surveillance system. And you can add analytics applications from Axis and our partners to meet a wide range of security – and business – requirements. For outdoor surveillance, AXIS T93C10 Outdoor Housing is available as an optional accessory and AXIS T93C Extension Kit offers extra space in the housing, allowing for mounting of longer lenses.
AXIS Q1615 Mk III - Fixed box network camera with onboard Deep-Learning Processing Unit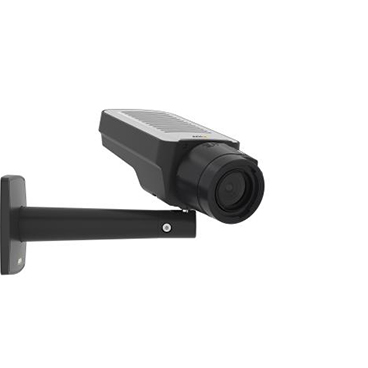 AXIS Q1615 Mk III combines exceptional imaging and video performance with outstanding hardware and processing capabilities to provide the perfect platform for analytics based on artificial intelligence (AI) with deep learning.
Highly nuanced object classification
This fixed box camera with Q-line functionality and exceptional video quality includes an innovative dual chipset that is the basis for remarkably granular object classification. AXIS Object Analytics is preinstalled and the camera's dual chipset facilitates powerful artificial intelligence with deep learning. This allows AXIS Object Analytics to distinguish between bikes, cars, buses, trucks, and so on. You can decide which vehicles you want to detect and when alarms are triggered, and notifications are sent to security personnel. Basing notifications on recognizing the difference between different kinds of vehicles results in fewer false alarms. So your operators will waste less time responding unnecessarily and they'll be able to handle more cameras.
Processing right on the camera
The dual chipset allows analytics to run on AXIS Q1615 Mk III (on the edge), so fewer servers are needed for processing. This results in a faster and more scalable system and facilitates complex and powerful analytics. Other benefits include real-time processing and lower costs and complexity. And storage and bandwidth needs, as well as privacy concerns, are reduced because only relevant video is transferred over the network.
Endless opportunities with AI
A dual chipset, which combines the proprietary Axis ARTPEC chip with a deep-learning processing unit (DLPU), is the secret behind the exceptional AI-based object-classification capabilities offered by AXIS Q1615 Mk III. This advanced hardware, in combination with the open Axis platform, gives you a unique opportunity to take advantage of tailor-made third-party applications based on AI and classification of humans and objects. Edge-based automatic incident detection, counting and anomaly detection are just a few of the many possibilities. And everything you need is in the camera – so no additional hardware is required.
AXIS P1455-LE-3 License Plate Verifier Kit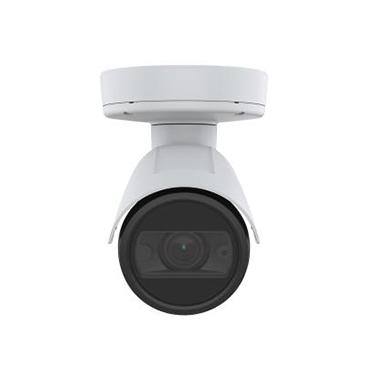 This all-in-one, outdoor camera kit includes an HDTV 1080p fixed bullet camera and comes with AXIS License Plate Verifier preinstalled. It offers an easy, cost-effective kit and includes freeflow mode for slow-speed traffic areas.
All-in-one license plate reading
AXIS P1455-LE-3 License Plate Verifier kit is ideal for slow-speed traffic, such as in city centers, access roads, gated communities, and campuses. It consists of an Axis fixed bullet camera and preinstalled AXIS License Plate Verifier analytics. Featuring a 29 mm telephoto lens, it delivers a high pixel density to allow for sharp license plates reading from 7 to 20 meters. This cost-effective solution delivers HDTV 1080p resolution and features automatic focus setting to ensure the desired field of view in perfect focus.
Any weather, any time
This robust and compact IK10-rated camera can be installed in all environments. It includes a weathershield and can handle temperatures ranging from -40 °C to 60 °C. Featuring shock detection, the camera will send an alarm when it has been hit. And, electronic image stabilization (EIS) ensures stable video despite vibration. This all-in-one, outdoor camera kit includes Axis image enhancement technologies as well as OptimizedIR to ensure sharp images for license plate reading around the clock.
Easy and efficient
This flexible, all-in-one solution allows for easy installation and tight integration with AXIS Camera Station (ACS). With an intuitive user interface, ACS provides all the necessary features for effective surveillance. It features efficient search capabilities, so it's quick and easy to review and search for incidents. This cost-effective solution also offers tight integration with other Axis products. For instance, you can expand your security system and set up triggers to activate speakers or lights.
It also offers easy integration with your video management software (VMS). And, the application's open API (application programming interface) lets you add tailor-made applications for more complex requirements. Furthermore, redundant DC power and PoE help ensure a reliable power supply.
AXIS Q8752-E - Bispectral (thermal and visual) PTZ network Camera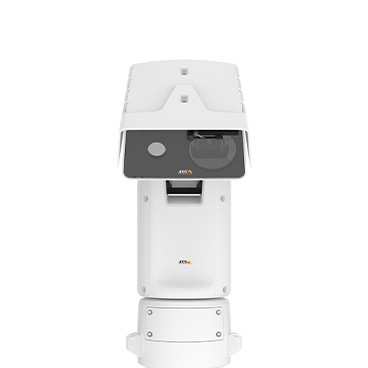 Ideal for perimeter surveillance and border control, AXIS Q8752-E offers reliable thermal detection and visual identification with x32 integrated optical zoom in one bispectral camera. AXIS Q8752-E Zoom delivers 3x thermal zoom allowing you to detect a human as far as 3 km according to Johnson's criteria. 35 mm thermal model is also available. It features Electronic Image Stabilization (EIS) on both channels and smooth PTZ operation.
Always see what you need to see
AXIS Q8752-E gives you two excellent cameras in one: a thermal camera for reliable detection and verification around-the-clock and in all weather and light conditions, and a visual camera for outstanding visual identification purposes. It offers a ground-to-sky view with a tilt range of -90° to +45° and 360° infinite pan for fast camera repositioning and smooth tracking of objects. Thermal palettes help identify different heat sources emitting the same amount of thermal energy, making it easier and more efficient to interpret a scene. You can assign color or shading to individual pixels based on their thermal energy and quickly highlight areas of interest within the scene. Electronic Image Stabilization (EIS) on both channels helps deliver smooth video even in situations where the camera is subject to vibrations. Furthermore, Forensic WDR and Lightfinder 2.0 guarantee images with saturated colors and sharp details of moving objects even in challenging light or near darkness.
Powerful analytics platform
This top-of-the-line camera contains all the functionality you need to track and identify any type of behavior. It includes AXIS Motion Guard, AXIS Fence Guard, and AXIS Loitering Guard for proactive surveillance. And, it's audio-ready, so it's easy to add audio capabilities by connecting a microphone. Built on a powerful analytics platform, it's easy to add custom-made third-party analytics. For instance, if you're exposed to incidents that involve aggressive behavior, gunshots, or breaking glass, AXIS Q8752-E can automatically alert you about potential and real incidents as they occur enabling quick, relevant responses.
Robust and secure
This robust camera is packed with advanced security functionality to prevent unauthorized access and safeguard your system. Signed firmware and secure boot guarantee that the firmware hasn't been compromised and ensure only authorized firmware is installed. And if needed, secure boot guarantees the camera is completely free of malware after a factory default. For added peace of mind, it includes a Trusted Platform Module (TPM) that is FIPS 140-2 level 2 certified. This module ensures secure storage of all cryptographic keys and certificates even in the event of a security breach. With IP66, NEMA 2TS, and IK10 ratings, you can be sure that the camera housing is resistant to both harsh weather conditions and vandalism. Plus, it's possible to connect AXIS Q8752-E using fiber optic cabling to overcome distance and bandwidth limitations. This means you can install the camera in out-of-the-way locations, far from any server or switch with fewer cables and connectors required. Furthermore, with thermal, visual, and PTZ capabilities in one camera, it reduces the need for additional cameras to protect your premises.
AXIS D2110-VE - Security Radar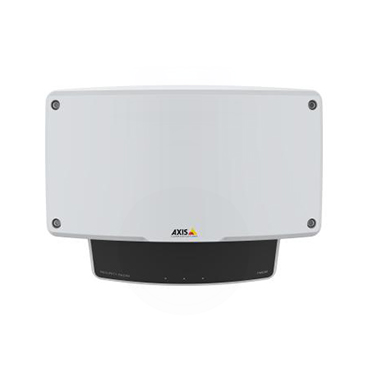 AXIS D2110-VE Security Radar is a smart, network-based device that uses advanced radar technology to offer you extensive 180° area protection 24/7 and a low false alarm rate. Featuring built-in analytics, it's ideal in a variety of outdoor installations such as industrial areas or after-hours monitoring of parking lots and loading docks.
Full protection that's accurate 24/7
Using advanced radar technology, AXIS D2110-VE delivers the position of an object for accurate detection 24 hours a day, seven days a week, in various weather conditions. Featuring built-in analytics developed using machine learning and deep learning, it can accurately detect, classify, and track people and vehicles with a low false alarm rate. This results in cost-efficient operation so security personnel can focus on real threats. It can also provide the speed of an object, for instance, to determine if a vehicle is exceeding the speed limit in a port or harbour area.
Powerful coverage and security
With 180° horizontal coverage, AXIS D2110-VE enables wide area protection. It can detect people at a distance of up to 60 meters and vehicles up to 85 meters. Furthermore, smart coexistence functionality allows the use of multiple radars close to each other. For instance, it's possible to mount two radars back-to-back for complete 360° coverage allowing you to detect vehicles in an area of over 22 000 m². Featuring the new generation Axis chip, this device is packed with advanced security functionality to prevent unauthorized access and safeguard your system. Signed firmware ensures that only authorized firmware is installed and guarantees that it hasn't been compromised. For added peace of mind, it includes shock and casing open detection so you can be informed if there's any attempt to tamper with the radar.
Full flexibility for a cost-efficient installation
This smart device features PoE-out for powering another device such as a camera for visual verification or a network horn speaker for deterrence, reducing cabling costs. For instance, you can connect AXIS P3807-PVE Network Camera for visual confirmation in the entire horizontal field of detection. Additionally, the security radar offers audio-out with edge-to-edge technology via smart pairing with Axis network horn speakers. AXIS D2110-VE has an intuitive user interface with crop and rotate map functionality for easy configuration. This security radar is also easy to integrate with various third-party video management software systems. The smart possibilities are practically endless.
AXIS Radar Autotracking for PTZ
AXIS Radar Autotracking for PTZ is designed to automatically control the direction and zoom level of one or many pan, tilt, zoom cameras for optimized camera views. The application uses motion data from Axis security radars to find objects of interest on the site. Compatible with AXIS Q60, AXIS Q61, AXIS Q62, AXIS Q86, and AXIS Q87 Network Cameras, AXIS Radar Autotracking for PTZ provides automatic, visual confirmation of detected objects even for objects out of the camera's current view. AXIS Radar Autotracking for PTZ hence minimizes the need for manual PTZ control of the cameras, such as joystick control.
AXIS Body Worn surveillance solution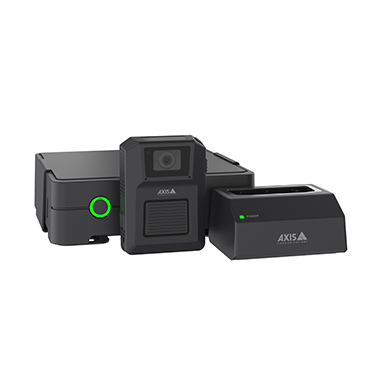 Made for you
Axis body worn cameras deliver sharp images under any circumstances and audio from the center of the action. They're lightweight, robust, water-resistant, and easy to use. They start and stop at a touch and buffer up to 90 seconds before they're switched on. Stealth mode lets you record surreptitiously. You won´t switch them on by accident. And long battery life, USB charging, and fast offloading make them ready to go when you are and a snap to put away. Plus our small, lightweight mini sensors clip right onto headgear with standard Picatinny mounts, so you can record from where it's convenient and unobtrusive.
Open, safe and scalable
Use your Axis body worn cameras with an Axis VMS or a VMS or EMS of your choice. Thanks to Axis Zipstream technology, you can store as much footage as you need without compromising video quality – onsite or in the cloud. There's an app for viewing and labeling material on cell phones. And evidence is easy to find and retrieve. Our body worn cameras support official FBI standards for cybersecurity with end-to-end encryption. And open standards and low-cost docking stations with a separate system controller make them flexible, and easy and cost-efficient to scale.
Always ready to record
Worn on the body. Handled a lot. Axis body worn cameras have to be able to take a beating. And they can. We build total quality into Axis products through our meticulous attention to detail. It begins long before we start building cameras and continues throughout the production, configuration and testing of every product. In the design phase, we check that every detail and component is engineered to perform to the highest standard. And we test our finished products both live on-site and in tough simulations.