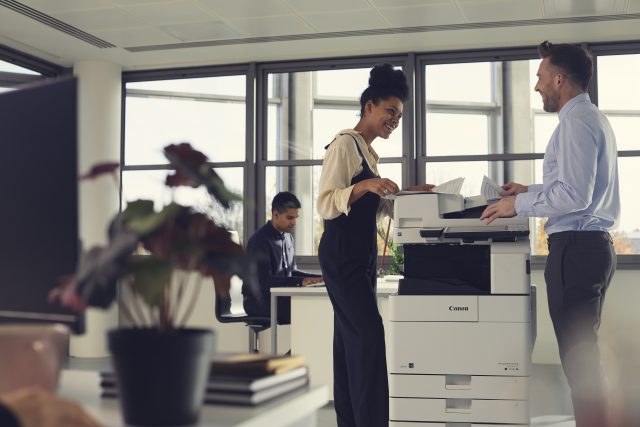 Office Printers and Multi-Functionals
Regardless of the industry or size of business, your workforce needs state of the art technology to maximise your potential, control costs and manage document security.
Canon's range of office printers and multi-functional machines are specifically designed to do all this and help you bring a faster and smarter way of working at your workplace.
Canon imageRUNNER series highlights - features to maximise your business potential
Canon office multi-functional devices come with various features to make your document handling workflow more straight-forward whilst keeping all the necessary security and functionality. Some of these are listed below:
Blank page removal

Multi sheet feed detection

Single pass 2-sided scanning

Automatic page orientation detection

Anti-streak correction

Stapling on demand and ECO stapling

OCR scanning

Scan to PDF, PDF/A, JPEG, TIFF, XPS and OOXML
Risk is part and parcel of every business. Canon multi-functional printers are specifically designed to help you reduce these risks;  that is why built-in Security features are standard.
The latest generation of Canon machines protect all documents throughout their life cycle and help customers align with GDPR regulations in their business workflows.
In a nutshell, Canon machines offer 360° protection for every size and type of business. These features include:
Device security
User authentication and login

Access management

Password protected device administration

Complete Hard Disk protection

Other optional features such as Card reader authentication
Document Security
Confidentiality of printer output

Address book access and destination control

Mailbox protection with PIN code

Job log

Other optional features such as Scan lock
Network Security
IP and MAC address filtering

Configure proxy servers

Posts control

Wi-Fi direct

Encryption of print and scan data in transit
CONNECTIVITY AND MOBILITY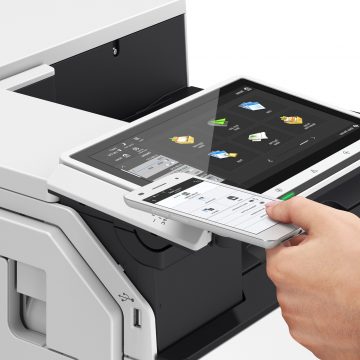 In today's world, our mobile phones are no longer just used for calls and texts. Printing from mobile devices has become a staple in most offices as it allows one a little extra flexibility that makes all the difference when in a hurry.
Canon office multi-functional devices are equipped with simplified connection methods using QR Codes, Bluetooth®, NFC or even using direct connection isolated from the main network. This is done through a number of mobile apps and connectivity protocols such as:
The Canon PRINT Business app can be used to easily change, print and select devices remotely

Bluetooth Low Energy (BLE) support is now available as an option, allowing devices to communicate while using very little power

Optional near field communications (NFC) support

Supports Mopria/Google Cloud Print and AirPrint
EFFICIENCY AND COST EFFECTIVENESS
When it boils down to it, any business decision revolves around the return on investment and Canon's range of multi-functional devices are designed with this in mind.
Besides the cost of each print, one must also consider the efficiency with which the device can handle the user's needs. With customiseable displays, settings and functions one can make it simpler and faster to execute tasks and save valuable man-hours.
Let us help you maximise your business potential while creating a safer connected office.