Discover the Canon imagePROGRAF TC-20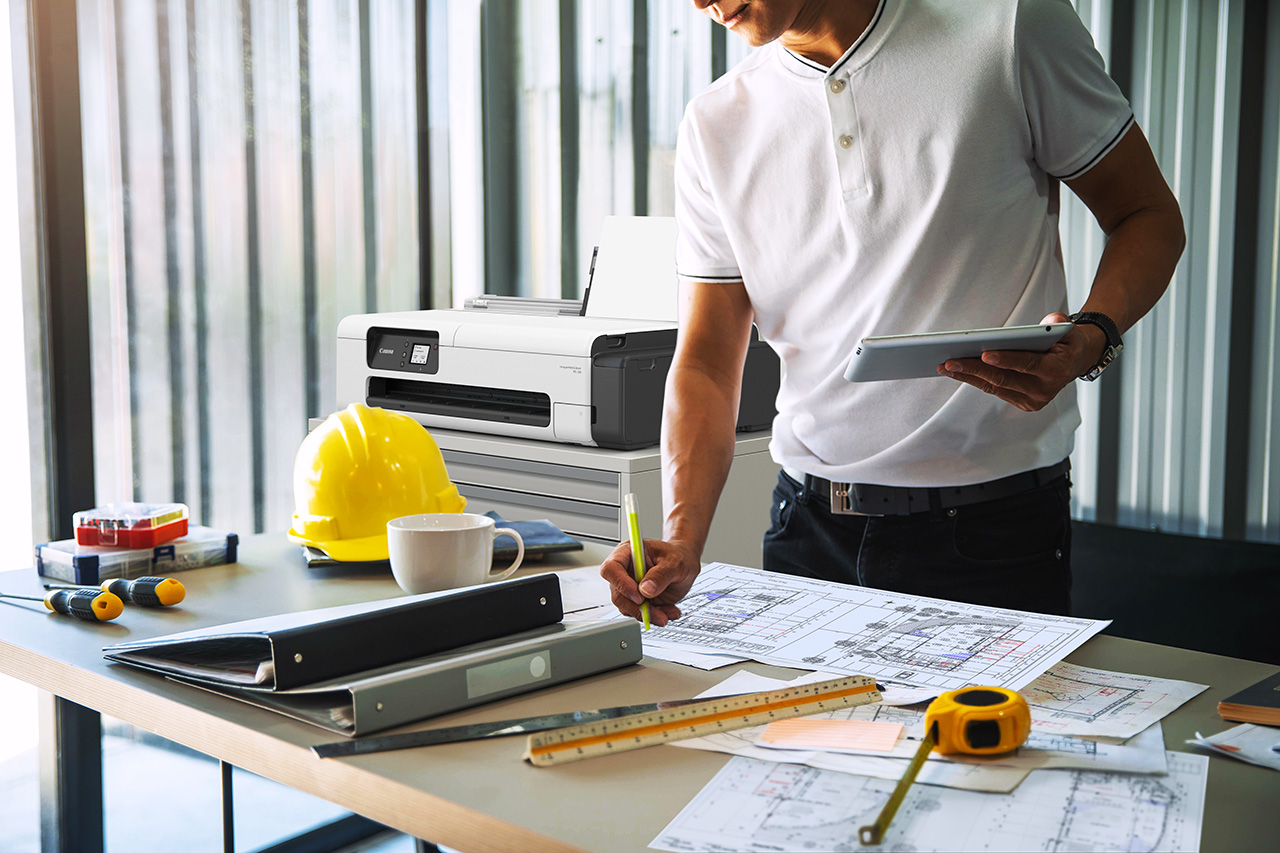 In today's world, hybrid working has increased, and has even become the norm for some people. This means that people in all industries may need to print from home or wherever they are working from, not necessarily always the office.
Canon have designed the imagePROGRAF TC-20, a 24-inch Large-Format Printer which can fit practically anywhere. This new device from Canon is a total of 968 x 525 x 245 mm meaning that it is space-optimised and with a compact design that makes it easy to move around between home and office.
This printer is specifically designed to fit in environments with limited space such as small offices and temporary work-spaces. It can be placed easily on desks or shelves without taking up too much of the available room which is ideal for offices with restricted space.
This printer comes with the following features:
Maximum holding capacity of 100 sheets of A4-size
Maximum holding capacity of 50 sheets
Roll sizes of up to 24" width
Standard 4 high-capacity 70 ml ink bottles
This printer can produce physical drawings, posters and any large graphic media you need. Users of this printer vary from graphic designers, architects, engineers, those in the construction industry to those in education and retail.
The TC-20 is fully front operational which makes the process of replenishing paper media, swapping out ink bottles and replacing maintenance cartridges very user-friendly. Users are also able to manage settings from the full colour touch screen panel located at the front of the TC-20.
The TC-20 comes with ink bottles in all 4 colours – cyan, magenta, yellow and black to cater for the continuous printing of technical drawings, GIS maps and posters. These 70 ml ink bottles also decrease the need of changing ink so frequently, saving time and replenishment costs. The TC-20 also comes with an optional desktop basket to easily gather prints in.
In addition to this, the printer was designed particularly focusing on first-time large-format users. It comes with the ability to switch between roll paper and cut sheet paper automatically. The TC-20 also has the availability of 'no-spool' roll paper loading. The printer comes with a shaft-less roll holder which makes setting up roll paper simple while the built-in auto sheet feeder keeps your prints continuous without intervention in switching papers.
Given the variety of sizes one is able to print, choosing between the roll or cut sheet sizes, this printer allows the creation of various prints such as banners, flyers and notices. The printer produces clear, high-quality prints that include fine lines and small characters that do not smudge easily from water spills or highlighter marks.
The TC-20 is rated Gold by the Electronic Product Environmental Assessment Tool (EPEAT) classifying it is an environmentally-friendly printer. It currently holds the highest rating of any imagePROGRAF printer to date, as it utilises the lowest power consumption. The EPEAT ecolabel is managed by the Global Electronics Council and is the leading global Type-1 ecolabel for technology products.